EstoGel®, Oil Gelling Polymer
PolymerExpert has developed EstoGel®, oil gelling polymers with a high percentage of naturalness to replace macromolecules of fossil origin.
INCI EstoGel® M : Castor Oil/ IPDI Copolymer (and) Caprylic Capric Triglyceride - (91 % origine naturelle)
INCI EMC30 : Caprylic/Capric Triglyceride (and) Castor Oil/IPDI Copolymer - (97% origine naturelle)
INCI EMI30 : Isononyl/Isononanoate (and) Castor Oil/ IPDI Copolymer (and) Caprylic Capric Triglyceride

EstoGel®, oil gelling polymer
PolymerExpert developed the EstoGel® line in 2017. These polymers based on supramolecular technology form a perfect alliance between naturalness and performance.
The gelling of anhydrous products in cosmetics is a topic of interest. Available ingredients are often complex to implement or not very effective, and their lack of naturalness is also often an issue.
EstoGel®M is a highly natural solution that provides transparency, suspensivity, viscosity and thixotropy to anhydrous cosmetic gels at the same time, with a reasonable impact on the formula cost.
Supramolecular gelation
EstoGel®M is a unique gelling agent, the gelling phenomenon is based on supramolecular chemistry. The polymer chains of the molecules associate with each other thanks to hydrogen bonds. These bonds are weak and totally reversible. The gel thus formed is very sensitive to shear. Thus a particularly thick gel becomes easily sprayable. This behavior allows the development of formulas with surprising changes of state (gel-liquid).
Properties of EstoGel®
EstoGel® are capable of transparently gelling oils of low and medium polarities such as vegetable oils or esters. Beyond gelling, EstoGel® are also able to suspend particles such as pigments pearlescent or for example dried flowers. These polymers form rheofluidizing gels which allow them to be used with sprays or pumps and which allow easy spreading. Moreover, they are short-chain polymers that do not disturb the sensoriality of your products and can contribute to obtain a light touch. These multiple properties give EstoGel® versatility in a variety of applications from skincare to makeup, suncare or even fragrance products.
Oil gellant
It forms perfectly transparent gels in most polar to medium polar oils: vegetable oils or esters for example.
More than 90% biobased according to ISO 16-128 standard
This high naturalness is an asset in current formulations
Transparent & suspensory gels
Pearls no longer settle to the bottom of the packaging, even on particularly fluid formulas.
Fragrance gelation
EstoGel®M allows to form solid transparent gels in pure perfume opening many creative applications in this sector.
Emulsion stabilization
EstoGel®M stabilizes emulsions without increasing their viscosity.
Sensoriality
Thanks to a neutral and gentle sensory, it can be incorporated into all types of oily textures, from fluid jelly to lipstick grapes.
Crystallization control
This polymer also helps control the crystallization of waxes and crystalline molecules (sunscreens, for example) which can help improve the durability of some reputedly fragile formulas.
Using all the properties of L'EstoGel®M, it is possible to create varied and original formulas: oily gels, pearlescent gels, rich and creamy serums, anhydrous foundation, lipsticks, transparent sticks, silicone-free skincare products, transparent melting balms, but also emulsions with improved sensory.
Made in France and authorized worldwide, its naturalness and exceptional properties make EstoGel M an ally of choice in many formulations.
EstoGel® Grades
There are currently three products in the EstoGel® line:
EstoGel® M which is the most concentrated raw material and thus allows great freedom in formulation. It is 91% biobased according to ISO 16128
EMC30 which is a dispersion of EstoGel® M in Caprylic/Capric Triglyceride, a universal oil that will suit all applications. It is 97% biobased according to ISO 16128
EMI30 which is a dispersion of EstoGel® M in Isononyl Isononanoate, an ester with a fine touch to develop very light textures.
These two grades EMC30 and EMI30 have been developed to offer formulators and industrialists an easier implementation.
Implementation of EstoGel® 
The formulation of EstoGel® is simple. EstoGel® can be introduced with a compatible oil and heated under agitation to 100°C for EstoGel® M or 80°C for EMC30 and EMI 30. Once this temperature is reached, the mixture must be stirred to fully develop the polymer. The product can then be poured hot or cooled as required. Optimal viscosity is achieved after 24 hours.
EstoGel® line information
Filler sedimentation reduction
EstoGel® reveals its suspensory power from 1% in a formulation. EstoGel® then allows a suspension of polymeric (example: Teflon), mineral (example: pigments, talc), or organic (example: kernel crush) particles, without impacting the viscosity of the medium. Thus, thanks to this suspensive effect, sedimentation of many fillers is avoided, even when the formulation is subjected to temperatures of the order of 50°C.
Stabilization of Water in Oil emulsions
Used as an additive in the continuous phase of an emulsion, EstoGel® improves its stabilization. Indeed, EstoGel® gel the oil and form a network through hydrogen bond interactions, thus trapping the external phase.
Gelling of technical oils
The grades of EstoGel® M, were developed, initially, to meet the expectations of the cosmetic field. However, PolymerExpert is now able to adapt this technology to ensure the gelling of uncommon and technical oils.
Advantages

High percentage of naturalness

Silky touch

Transparent gel

Suspensive capacity from 1%

Rheofluidifying

Easy to process

RSPO

China INCI compliant
Applications

Skincare

Personal care

Make-up

Haircare

Suncare

Perfume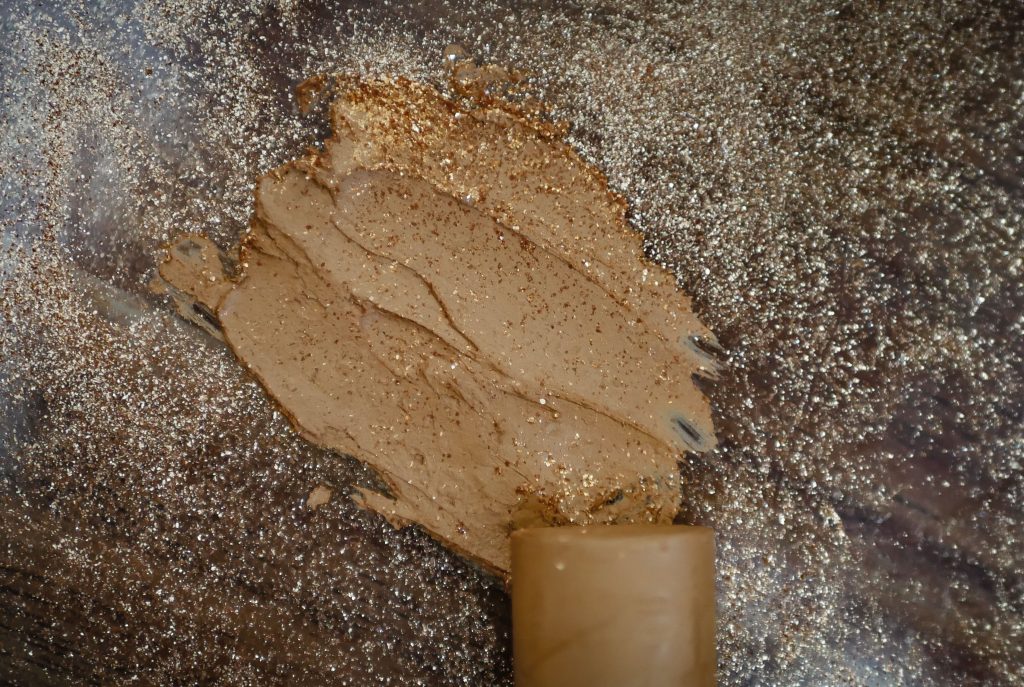 Discover our formulation guide
Our experts have made guidance formulas to help you in your formulation projects. Discover our guide and order your samples!